Preserve Your Vehicle's Beauty: Southlake Ceramic Coating Experts
At AutoPro DFW, we take immense pride in serving the residents of Southlake, Texas, and meeting their Ceramic Coating needs. With our dedication to excellence and a passion for preserving the beauty of your vehicle, we go above and beyond to ensure that every customer receives top-notch service.
Our highly skilled team of experts understands the importance of a flawless finish and long-lasting protection. Whether you want to enhance your car's appearance or safeguard it from the elements, AutoPro DFW is here to deliver outstanding Ceramic Coating solutions that exceed your expectations.
When it comes to Ceramic Coating, Southlake residents can trust AutoPro DFW for unparalleled expertise and personalized care. We believe in treating every vehicle as if it were our own, employing meticulous attention to detail to achieve stunning results.
Our state-of-the-art facility is equipped with cutting-edge technology and premium-grade products to provide the highest level of protection for your cherished vehicle. At AutoPro DFW, we are more than happy to guide you through the Ceramic Coating process, explaining the benefits and options available to you.
Our goal is to help Southlake, Texas residents preserve the longevity and brilliance of their vehicles, ensuring satisfaction with every Ceramic Coating service we offer.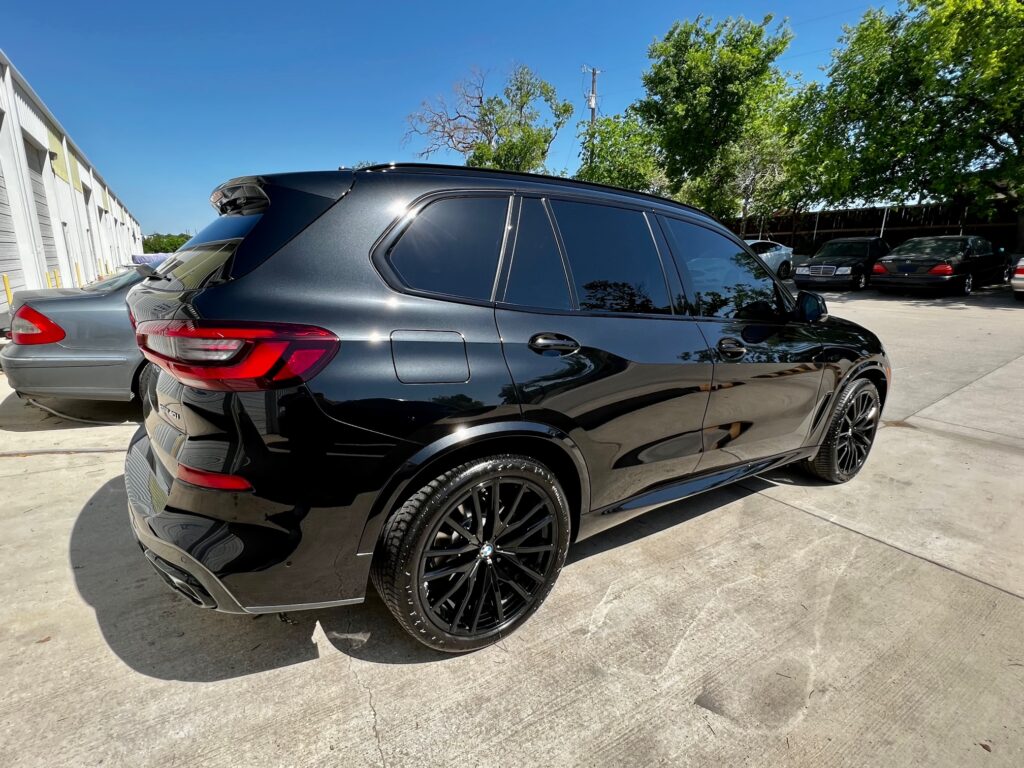 What is Southlake Ceramic Coating?
Ceramic Coating is an advanced protective layer that is applied to the exterior surfaces of a vehicle. It is a liquid polymer that forms a strong bond with the paintwork, creating a durable and transparent coating. Unlike traditional waxes or sealants, Ceramic Coating provides long-lasting protection against various environmental contaminants such as UV rays, dirt, dust, acid rain, and road grime.
It acts as a shield, effectively minimizing the risk of scratches, fading, and oxidation. Additionally, Ceramic Coating enhances the gloss and shine of the vehicle, giving it a smooth and sleek appearance. The hydrophobic properties of Ceramic Coating also make it easier to clean, as water and other liquids bead up and roll off the surface, reducing the chances of water spots and stains.
The primary benefit of Ceramic Coating is its ability to provide long-term protection to a vehicle's paintwork. The strong chemical bonding of the Ceramic Coating creates a semi-permanent layer that can withstand regular wear and tear.
It forms a protective barrier that guards against UV damage and prevents the paint from fading or oxidizing over time. Ceramic Coating also offers resistance against chemical stains, making it less susceptible to damage from acidic substances and contaminants.
This protective layer ensures that the vehicle's exterior stays in excellent condition, reducing the need for frequent repainting or touch-ups. Furthermore, Ceramic Coating offers a high level of clarity and depth to the paint, enhancing the overall aesthetics and making the vehicle appear newer and more attractive.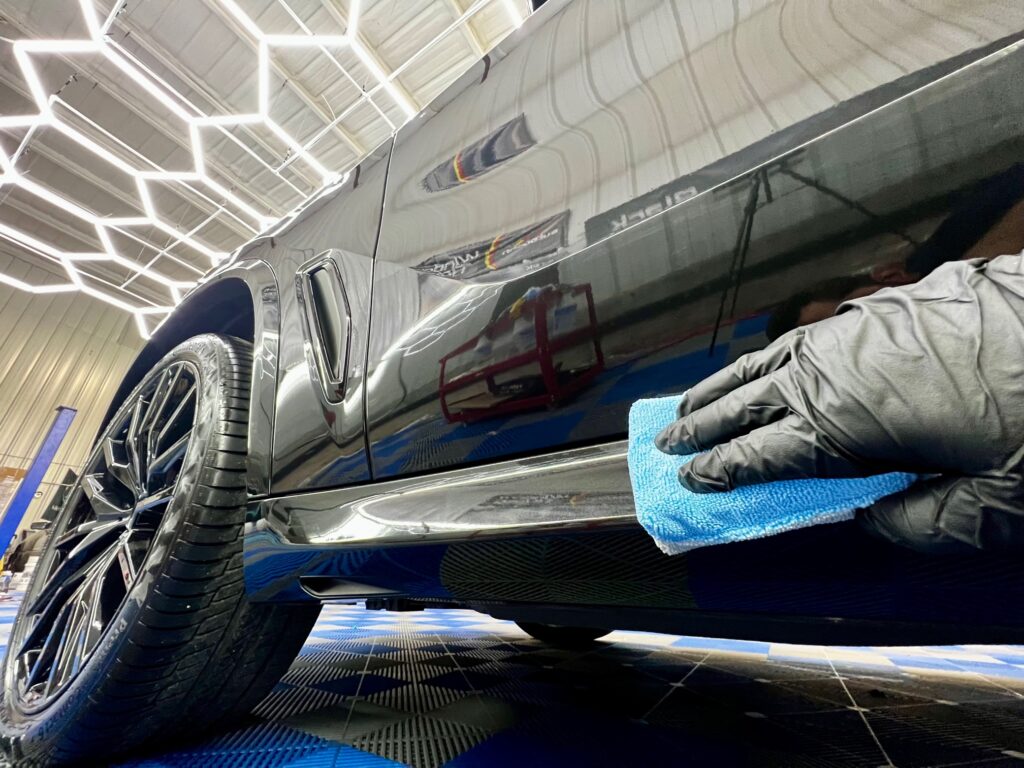 Ceramic Coating Options at AutoPro DFW
At AutoPro DFW, we are proud to offer a range of Ceramic Coating options to cater to the diverse needs of our customers in Southlake, Texas. We understand that every vehicle and owner have unique requirements, which is why we provide four different Ceramic Coating choices.
Our options include 1 Year, 3 Year (our most popular), 5 Year, and 10 Year coatings. Each of these options is designed to provide varying levels of longevity and protection, ensuring that you can select the one that best fits your preferences and budget.
It's important to note that the longer the longevity of the coating, the more aggressive and enhanced protection it offers against environmental elements, such as UV rays, dirt, and scratches. Regardless of the duration you choose, all of our Ceramic Coatings contain titanium, a premium ingredient known for its exceptional durability and resistance.
When you choose AutoPro DFW for your Ceramic Coating needs in Southlake, Texas, you can rest assured that we have a comprehensive range of options to meet your requirements. Our 1 Year Ceramic Coating provides a solid level of protection, ideal for those seeking a short-term solution.
Our 3 Year Ceramic Coating is our most popular choice, striking a balance between longevity and affordability, offering excellent protection and shine for several years. For those who desire extended durability, our 5 Year and 10 Year Ceramic Coating options are available, delivering long-lasting defense against the elements and preserving your vehicle's appearance for an extended period.
Regardless of the duration you select, our Ceramic Coatings all contain titanium, ensuring the highest quality and performance to safeguard your vehicle's paintwork and enhance its overall aesthetics.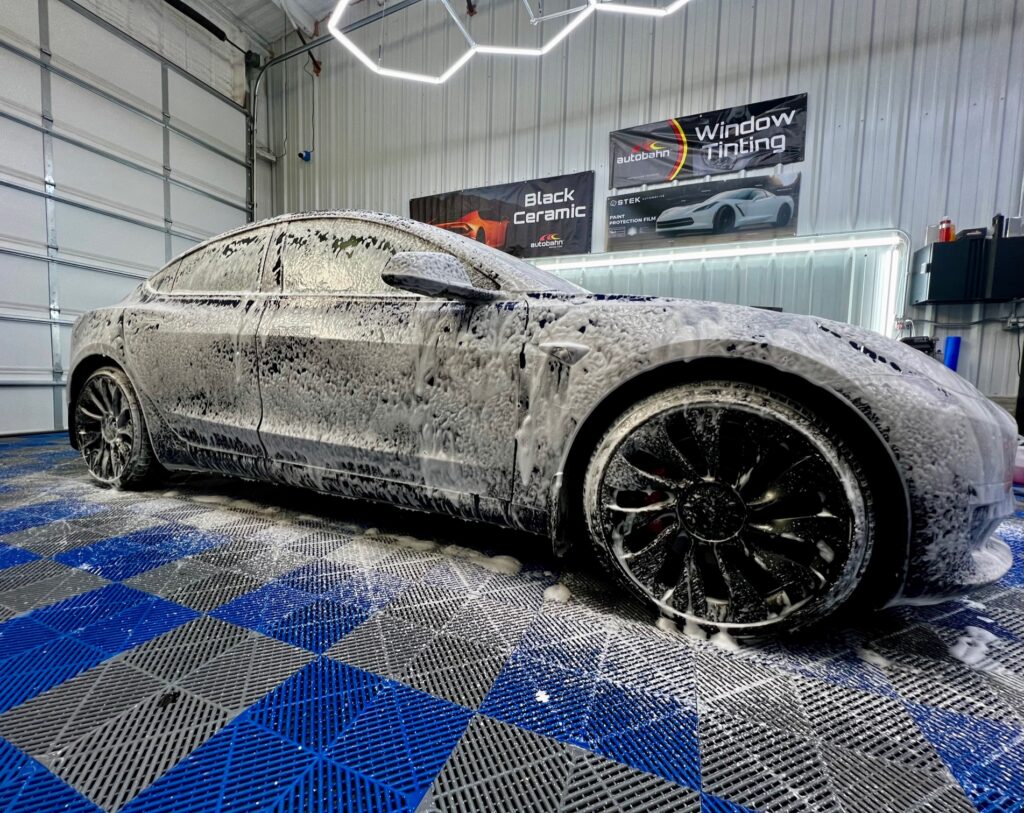 Do I need a Paint Correction before Ceramic Coating my vehicle?
We highly recommend having the paint properly polished or undergoing a paint correction process before applying Ceramic Coating to your vehicle. Paint correction involves carefully removing imperfections such as swirl marks, scratches, oxidation, and other blemishes from the paint surface.
This step is crucial because once the Ceramic Coating is applied, it will lock in the current condition of the paint, making it essential to have a pristine surface beforehand.
For dark-colored vehicles, especially black ones, the recommendation for a paint correction is even stronger. Dark-colored paints tend to show imperfections more prominently due to their reflective properties. Any scratches, swirl marks, or paint defects are easily visible on black paint, detracting from the overall appearance.
By performing a paint correction, the surface is carefully refined and restored to its optimal condition, ensuring a smooth and flawless finish.
By addressing paint imperfections through a paint correction process prior to applying Ceramic Coating, you'll achieve the best possible outcome. The coating will then bond to a pristine surface, maximizing its effectiveness and enhancing the overall aesthetics of your vehicle.
At AutoPro DFW, we prioritize delivering exceptional results and recommend a paint correction to ensure that your Ceramic Coating provides the highest level of protection and showcases your vehicle's true beauty, especially for dark-colored vehicles like black.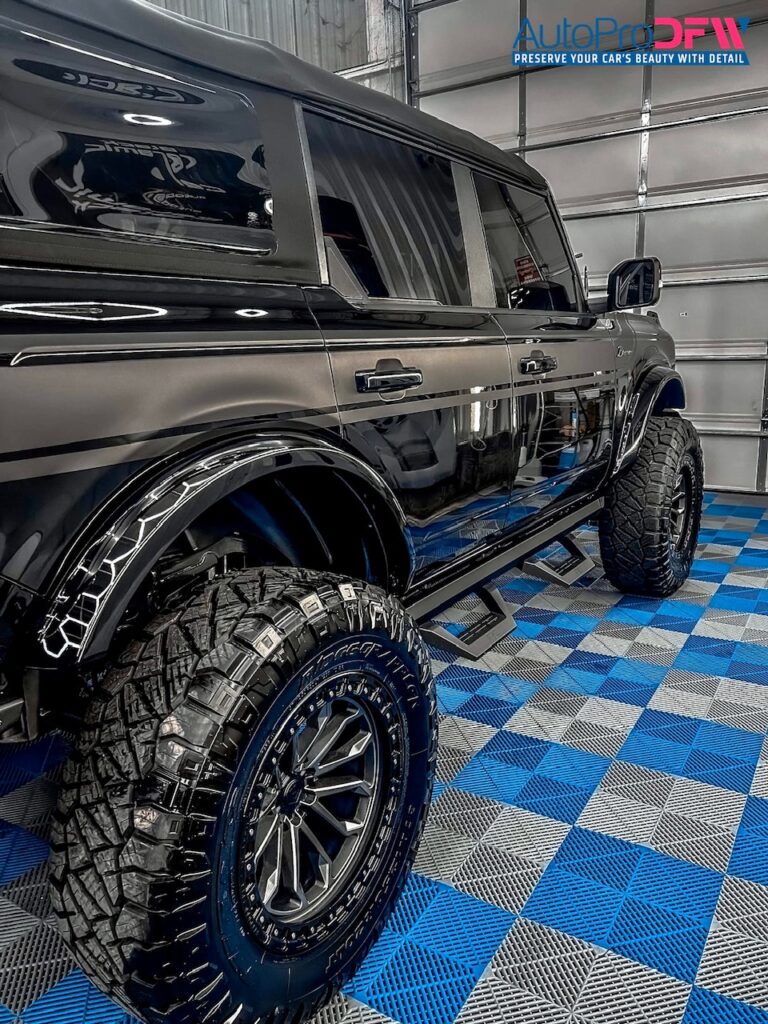 Southlake Ceramic Coating Experts
What are you waiting for? Let AutoPro DFW take care of your Ceramic Coating needs in Southlake, Texas. With our unmatched skill and experience in the industry, we are the go-to professionals for exceptional results. Our team of experts is not only highly skilled but also passionate about what we do.
We understand the intricacies of Ceramic Coating and employ the latest techniques to ensure a flawless application every time. From surface preparation to the final coating, we pay meticulous attention to detail, guaranteeing a stunning finish that will exceed your expectations.
Don't settle for subpar results or risk your vehicle's appearance with inexperienced providers. Put your trust in AutoPro DFW, where we have the expertise and know-how to handle your Ceramic Coating needs with precision and finesse.
Not only are we good at what we do, but we also offer the highest quality coatings in the market. At AutoPro DFW, we believe in providing nothing but the best for our customers in Southlake, Texas. That's why we have carefully selected Ceramic Coatings that stand out from the competition in terms of quality, durability, and performance.
Our coatings are sourced from trusted manufacturers known for their cutting-edge technology and advanced formulations. When you choose AutoPro DFW, you can have complete confidence that your vehicle will be treated with the utmost care and protected with the finest coatings available.
We take pride in delivering exceptional results that will leave your vehicle looking pristine and shielded against the elements. Don't settle for anything less than the highest quality; let AutoPro DFW be your trusted partner for Ceramic Coating in Southlake, Texas.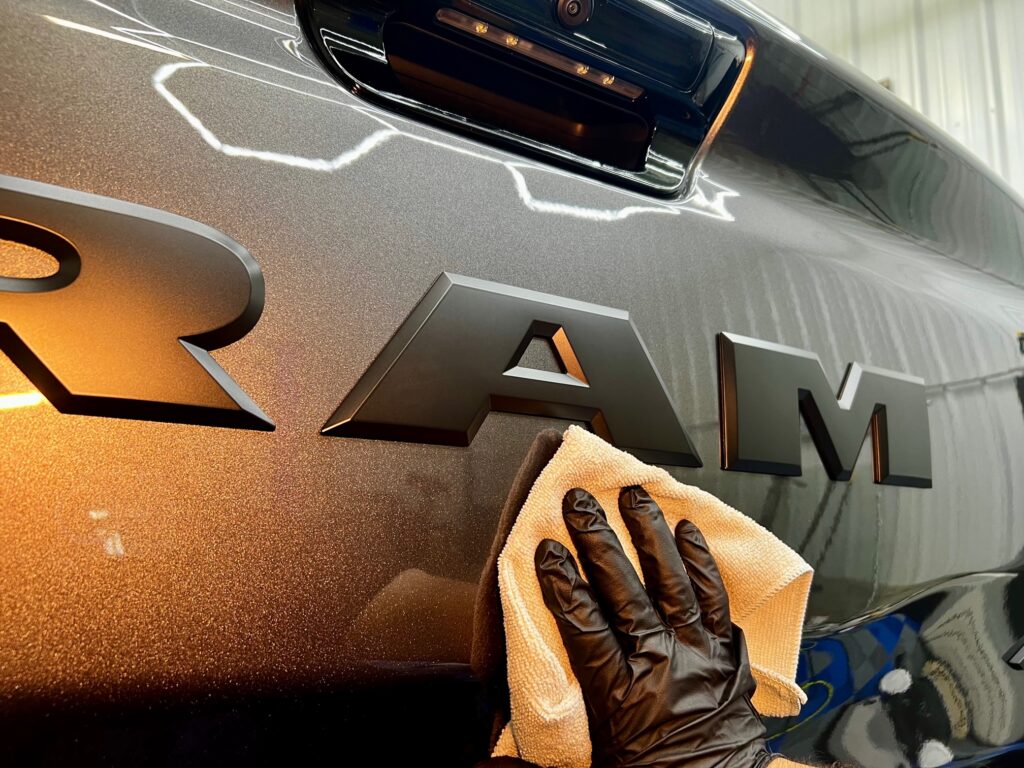 Southlake Texas Book Your Ceramic Coating Today
To benefit from our top-notch Ceramic Coating services, simply visit our website and navigate to our dedicated Ceramic Coating service page.
There, you will find a convenient form that allows you to provide us with the necessary details to get started.
Fill out the form with your contact information, vehicle specifications, and any specific requirements or questions you may have.
Our team at AutoPro DFW will promptly review your submission and reach out to you to discuss further details, answer your inquiries, and schedule an appointment that suits your convenience.
We understand the importance of a seamless customer experience, and our user-friendly form ensures a hassle-free process to initiate your Ceramic Coating journey with us.
Don't wait any longer—take the first step towards protecting and enhancing the beauty of your vehicle by filling out the form on our Ceramic Coating service page today.