Reliable Window Tint Services In Roanoke, Texas
Reliable Window Tint Services In Roanoke Texas – Enjoy Quality Window Tint Services By Choosing AutoPro DFW
Window Tinting in Roanoke, Texas
AutoPro DFW: Window tinting is a great way to customize your car's look, and it can also help to protect your car from the sun and other elements. But what if you need window tint services in Roanoke, Texas that you can rely on to do the job right? 
Well, you're in luck because you've come to the right place!
Enjoy Quality Window Tint Services By Choosing AutoPro DFW
Take a look at AutoPro DFW! Our experts will handle everything from measuring your windows to applying the appropriate tinting film. We're here to make sure your windows look great.
We at AutoPro DFW are always happy to assist you. Our expert team is passionate about window tinting and knows exactly what it takes to get the job done correctly. 
We also use cutting-edge technology and equipment to ensure that your windows look their best. To top it all off, our window tinting service is always affordable!
Call us today to experience the difference in quality window tint in Roanoke and the surrounding areas; we will not let you down!
What Types of Tinting Are Available?
At AutoPro DFW, we have a number of
window tinting options
to suit your needs. Depending on your preferences, you can choose between clear and dark window tint. 
If you require something a little more specialized, we can also provide specialty window tint services such as the installation of special-grade films. Here's a quick look at some of the most common types:
A transparent tint simply makes your car window look lighter than it is. This tint is excellent for reducing the heat that comes through the window, making it a good choice if you live in a hot climate. However, because it doesn't block out light completely, transparent tints can also make your car harder to see during daylight hours.
A light tint is enough to reduce the heat that comes through the window but doesn't completely block out light. This tint is usually suitable for people who live in climates where sunlight is harmful, such as during summertime. Light tints are also popular among drivers who want to add a little style to their car.
A dark tint is designed to block out most sunlight, making your car easier to see during the day but harder to see at night. Dark tints are usually not as popular as light or transparent tints because they can make your car look bulky and busy. However, they can be a good choice for people who want complete privacy when driving at night.
Call us today for more information on our services for window tint in Roanoke, TX!
Window Tint Services: Our Commitment To Quality
If you're looking for dependable window tint services in Roanoke, look no further than AutoPro DFW, where our team of experienced professionals is committed to providing you with the best window tinting services available. We recognize that each customer's requirements are unique, so we will collaborate with you to find the best solution for your specific situation.
AutoPro DFW is the ideal choice for all of your window tinting requirements. Our experts will handle everything from measuring your windows to applying the appropriate tinting film. We use cutting-edge technology and equipment to ensure that your windows look their best. Last but not least, our window tinting service is always reasonably priced! 
Don't hesitate to contact us today to schedule a consultation if you want to improve the security and energy efficiency of your home. The results will not disappoint you!
Roanoke, Texas Ceramic Coating for your Automobile
If you are considering purchasing a new car, you may be wondering if ceramic coating is worth the investment. Ceramic coating is a clear, durable coating that is applied to the exterior of a vehicle. It creates a barrier between the paint and the elements, protecting the paint from UV rays, dirt, and other contaminants. These coatings can also make your car easier to clean and can give it a slick, glossy finish.
At Autopro DFW, we only use Fireball ceramic coating to protect your automobile.  So if you are thinking of getting ceramic coating to protect your vehicle, give us a call.
Quality Ceramic Window Tint
Ceramic window tint is a new technology gaining traction in the automotive industry. Applied in much the same way as traditional window tint, ceramic window tint is infused with nano-particles of ceramic.  This ceramic infused film is more durable than traditional tinting and has an increased capacity to absorb and block UV rays. 
Ceramic coating is a type of film coating composed of ceramic particles. The ceramic coating can shield the window from scratches, stains, and fading. The ceramic coating is also heat resistant and will last longer than other films.
Only ceramic film outperforms traditional window tinting in terms of performance, blocking more than 99 percent of UV rays. Ceramic products will not fade or interfere with radio signals because they contain no dyes or metal particles.
Because ceramic particles do not conduct heat, they provide the same level of sunlight reflection while providing increased insulation. This means it is the most effective tint at blocking out solar heat, reducing its impact on the car's internal temperature by roughly half.
The ceramic coating makes the windows more shatter-resistant. It also can reduce glare without needing a very dark tint. So you can add a lighter shade to your vehicle without lowering glare.
Paint Protection Film For Your Vehicle
The paint protection film is an excellent way to keep your vehicle looking good while protecting it from the damaging effects of the sun and weather. AutoPro DFW can provide dependable window tint services to keep your vehicle looking its best both inside and out. Here are the advantages of getting paint protection film for your vehicle.
Supreme Auto Detailing Services
Professional auto detailing is the art and the craft of cleaning and restoring a vehicle to like-new condition. Auto detailing services are much more precise and labor-intensive than getting a car wash. A car wash is normally an automated system that a car passes through to clean the exterior. Professional auto detailing is always done by hand and includes exterior and interior car detailing services. 
While anyone can detail a car by cleaning the inside and outside as best as they can, a professional auto detail is done by an experienced auto detailing craftsman with the right techniques and high-quality products.
Paint Correction Services
AutoPro DFW is a one-stop shop for all your paint correction needs. 
Scratches, swirls, and oxidation can make the paint finish on your car appear dull and uneven. Fortunately, car detailers have a few options for repairing paint. Waxing and polishing, for example, are typically reserved for paint that is in good condition and can help to correct minor flaws.
However, if the paint has major flaws, you may need to choose the more extensive paint correction service. The paint correction service essentially repairs the clear coat, which is the paint's outermost layer. A paint correction service can remove blemishes that run deeper into the clear coat, such as scratches, deep swirls, and oxidation, which leave the paint looking powdery or dull.
Paint Correction Benefits
A paint correction serves several important functions.
Finally, when your car's paint is in poor condition, paint correction is the ideal service. The good news is that with the right equipment and expertise, many common paint problems can be resolved in as little as one cleaning.
Residential Window Film Installation
A tinted house is a cozy home. Improve, secure, smarter, and more energy-efficient home windows. Because each home is unique, we cannot provide the same residential window film product to everyone. We have hundreds of different residential window film options. Allow our team of experts to assist you in determining the best solution for your specific needs.
Enjoy these advantages following residential window film installation:
If you are looking for an affordable and reliable window tint service, look no further than AutoPro DFW! We offer a wide range of tinting services that can be customized to meet your specific needs. From standard window tinting to special effects like solar privacy film, we have something for everyone.
Our team of experts is dedicated to providing the best possible service and quality products. We know that you will be happy with the results of our work.
Looking for reliable auto window tint services in Roanoke, Texas? Look no further than AutoPro DFW!  We offer a wide range of quality window tinting options that are sure to meet your needs. Plus, our prices are unbeatable! 
So if you're in need of quality window tinting services and more, call us today at (817) 330 4413 or visit us here and enjoy the value and quality you won't find anywhere else!
You are still not convinced?
Stop by our shop to check out all of our different Window Tint options, and feel the heat rejection we have to offer.
Auto Pro DFW Services in Roanoke, TX
Our professional window tinting services at AutoPro DFW, can help to keep your car looking its best. Whether you need a light tint to reduce the heat that comes through the window or a darker tint to help protect your privacy, our window tint can help you get the perfect shade and aesthetic for your vehicle.
AutoPro DFW is committed to offering the highest quality window tinting services. We use up-to-date window tinting technology and equipment to ensure that your windows are treated with the utmost care. In addition, our team of experienced technicians is certified and trained to provide the best possible service.
Window tints have gained substantial traction in the auto industry for years now, and there are real benefits of getting Window Tints on your car. If you are wondering what Window Tint is? It is a thin layer of dark, semi-opaque material made of either carbon or ceramic.
Premier Quality Paint Protection Film: The paint protection film is investing in your car's future. The money you spend right now will pay dividends a few years down the line when your car has several scratches and swirl marks on its surface.
While many people think of their car as just a means of transportation, your automobile is actually a considerable investment. Just like any other investment, you want to protect your car and keep it looking its best. That's where professional ceramic coating comes in.
If you're looking for top-notch auto detailing in the DFW area, look no further than AutoPro DFW. We take pride in providing our customers with the highest quality services and exceptional customer service. Our team of experienced professionals use only the best products and equipment to ensure your vehicle looks its best.
AutoPro DFW is your one-stop shop for all your residential window film needs. We offer a wide variety of films to choose from, all of which are designed to protect your home from the sun's harmful rays. Our films are also fade-resistant and scratch-resistant, so you can rest assured that your windows will look great for years to come.
Weather in Roanoke, TX
Mist
About Roanoke, TX
Northwest Regional Airport may refer to: * Northwest Regional Airport (Texas) in Roanoke, Texas, United States * Northwest Regional Airport (British Columbia) between Terrace and Kitimat, British Columbia, Canada
Neighborhoods in Roanoke, TX
Things To Do in Roanoke, TX
Bus Stops in Roanoke, TX to AutoPro DFW
Bus Stop in Comfort Suites Roanoke - Fort Worth North Roanoke, TX to AutoPro DFW
Bus Stop in Roanoke Police Department Roanoke, TX to AutoPro DFW
Bus Stop in Best Western Roanoke Inn & Suites Roanoke, TX to AutoPro DFW
Bus Stop in Martin Brower/McDonald's Distribution Center Roanoke, TX to AutoPro DFW
Bus Stop in Cox Elementary Roanoke, TX to AutoPro DFW
Bus Stop in Roanoke Elementary School Roanoke, TX to AutoPro DFW
Bus Stop in Craft & Vine Roanoke, TX to AutoPro DFW
Bus Stop in The Classic Cafe at Roanoke Roanoke, TX to AutoPro DFW
Bus Stop in Jason's Deli Roanoke, TX to AutoPro DFW
Bus Stop in Motel 6 Roanoke, TX - Northlake - Speedway Roanoke, TX to AutoPro DFW
Bus Stop in Cinemark Roanoke and XD Roanoke, TX to AutoPro DFW
Bus Stop in The Home Depot Roanoke, TX to AutoPro DFW
Driving Directions in Roanoke, TX to AutoPro DFW
Driving Directions from Clean Streak Auto Spa to AutoPro DFW
Driving Directions from Carnation Auto Spa to AutoPro DFW
Driving Directions from AutoPro DFW to AutoPro DFW
Driving Directions from The Coat Lab to AutoPro DFW
Driving Directions from Trophy Mobile Auto Spa to AutoPro DFW
Driving Directions from BlueWave Express Car Wash to AutoPro DFW
Driving Directions from North Texas Auto Detailing to AutoPro DFW
Driving Directions from Aim Auto Care to AutoPro DFW
Driving Directions from Clear Bra North Dallas to AutoPro DFW
Driving Directions from Paint Protection Dallas PPF | Ceramic Coating | Tint 817.714.9067 to AutoPro DFW
Driving Directions from WaterwerkzDFW Premium Auto Detailing to AutoPro DFW
Driving Directions from Dallas Detailing And Buffing to AutoPro DFW
Reviews for AutoPro DFW Roanoke, TX
No one likes dealing with the law, but when it comes to window tinting your car, you need to be aware of the laws in your state. In Texas, there are specific window tint laws about how dark your windows can be tinted; if you don't follow them, you could get a ticket or not be able to pass the state inspection. So, if you're considering getting your windows tinted, do your research first and find out what the laws are in Texas.
Auto Pro DFW can help! We've gathered all the pertinent information about Texas window tint laws on this page, including explanations of the darkness and reflectiveness allowances. In addition to the car window rules and regulations in Texas, we've added them. Texas passed a law in 2009 regarding window tints, being the 49th state to do so.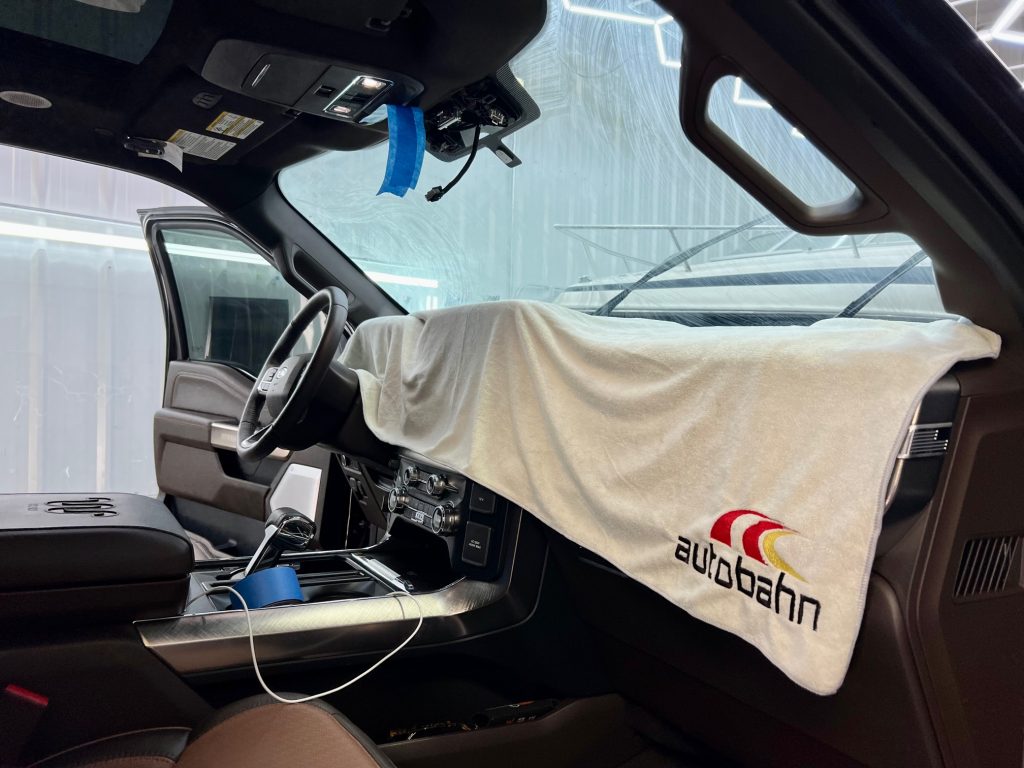 What is VLT?
The percentage of visible light that passes through your vehicle windows is known as VLT Visible Light Transmission. The lower the percentage of VLT, the darker the tint. Tinting your windows may be as simple as adjusting the amount of light you want to let in. For example, a 5% tint would be quite dark. Moreover, the proportion of visible light allowed into a house varies from state to state, as shown below.
Legal Window Tint in Texas
Frontside windows: 25% or more light is permitted
Rear Windows: Any opaque tint is allowed.
Windshield: The top 5-inches or higher of the windshield can have a 25% or more allowance.
Following are the car tint laws and regulations for the state of Texas:
Color Tint in Texas
Some states, including Texas, have laws against using certain colors for window tint. These prohibited colors typically include amber and blue.
Texas Car Window Tint Law-Exemption
Below are the exemptions to the requirement for window tints:
Passenger Transport-Vehicles utilized to transport passengers for a fee regularly, such as buses, taxis, and limousines.
Law Enforcement-Vehicles are used for law enforcement and maintained by a police force.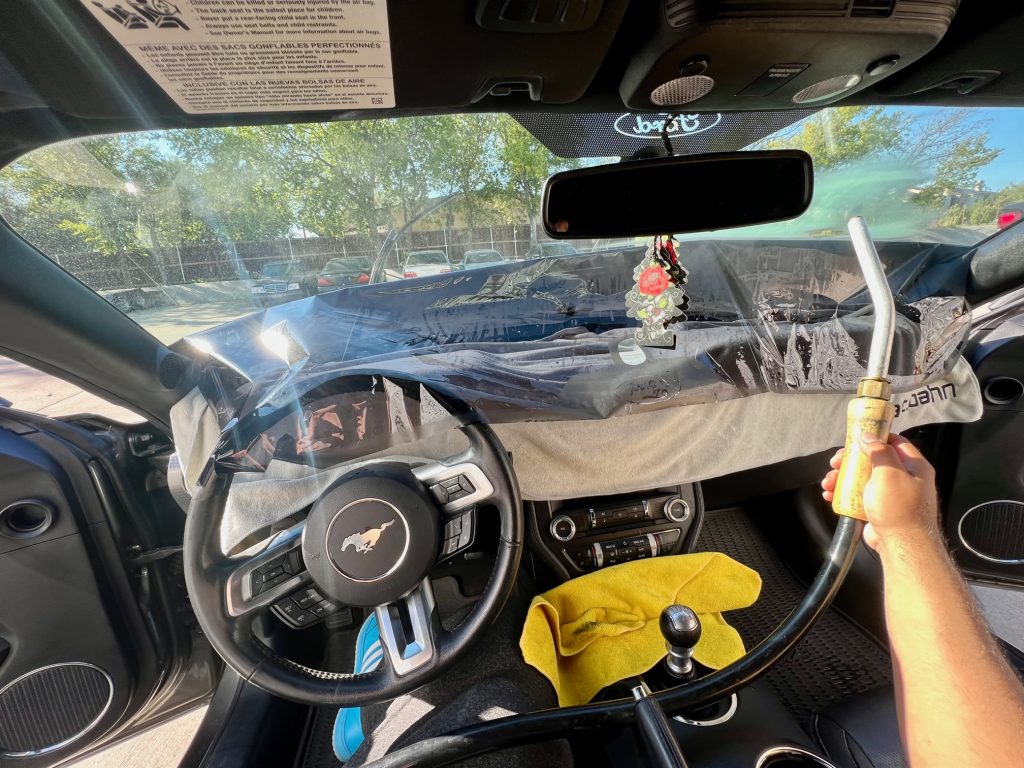 Texas Window Tint-Medical Exemption
If a driver wants to be exempt from Texas law, they must get a signed medical exemption statement from an authorized physician or optometrist.
Reflective Window Tint in Texas
It must have a reflective tint of 25% or less, as required by Texas law.
Window Tint Certification/Label
All film manufacturers within Texas are required to certify their products. A label must be attached to the driver's side window.
Windshield Window Tint in Texas
Tinted windshields and windows have been around for quite a long time and have substantiated themselves as helpful device. Windshield tinting is a meager film that covers your windshield without lessening perceivability. Tinting might be fairly costly, even though tinted windshields and windows offer a few advantages that eventually make the exorbitant cost worth the effort.
The Benefits of Windshield and Window Tinting
There're plenty of benefits of tinted windshields and windows, such as:
Preserving Your Interior
UV rays harm your skin and cause the interior of your vehicle, including dashboards and seats, to crack and fade. Tinted windows will protect these materials and prolong the life of your car's interior.
Improved Comfort Levels
Window tints are an amazing way to keep the inside of your automobile much cooler and more pleasant by blocking out UV rays during the hot summer months. Not only do window tints reduce the brightness of the sun, but they also make it more comfortable for your eyes.
More Fuel-efficient
Running the AC puts a damper on your gasoline efficiency. Window tints block the sun and cool the vehicle, allowing you to use air conditioning and get more mileage out of your gas tank.
Appealing Look
There is no other way to say it. Tinted windows add attitude to a vehicle while also improving the overall appearance of the exterior.
Increased Anonymity and Privacy
You may turn on screen tinting to make it more difficult for attackers to see while still being able to look out.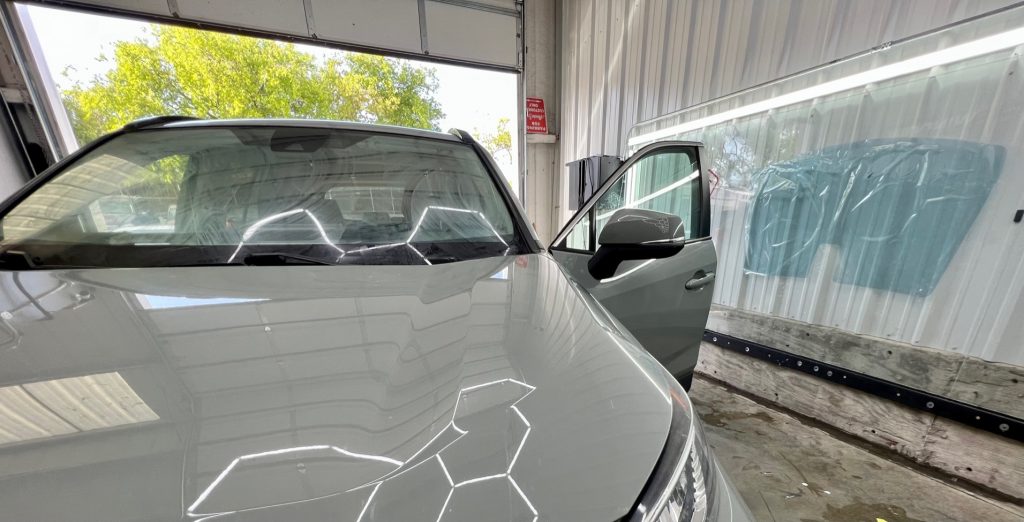 The Most Important Reasons to Have Your Windows Tinted
When protecting your car, you might not consider tinting your windows a top priority. But maybe you should.
After all, you spend much time in your car, making safety and comfort extremely important factors to consider.
For a free quote on windshield and window tinting, contact us now.
How to Choose the Right Tint for Your Car?
There are a few factors to consider when choosing the right window tint for your car:
Determine Why You need to Tint
The first step is identifying your main objective for tinting your car windows. If you're a resident of a sunny location and wish to shield yourself and your passengers from harmful UV radiation, opt for the film with high UV protection. If you prioritize privacy, then a darker film would be more beneficial.
Always Choose a High-quality Film
Regardless of the tint percentage you pick, go with the high-quality film. In other words, visit a professional window-tinting store to purchase your film instead of ordering it from an online retailer.
Have it Done Professionally
Although you could install car windows and windshield tinting yourself, we recommend against it. Window and windshield tinting installations need experience and training to guarantee that the film doesn't bubble. If your vehicle has bubbles, it'll appear to be neglected. It may fade or change colors in a few months, especially if you live in an environment with high humidity.
When you use a professional installer, you can be confident in the quality of their work and that they'll offer a warranty. Plus, they'll assist you in choosing the best tint for your vehicle.
Consider the Look of Your Vehicle
Because tinting your automobile covers the windows and windshield adds a degree of opacity, it will alter the look of it unless you use a very high percentage rating. Tinting your windows and windshield will give both the inside and outside of your car a new look.
Decide on the style you want to assist with and determine your tinting percentage. If you're concerned that it'll appear too dark, be more careful.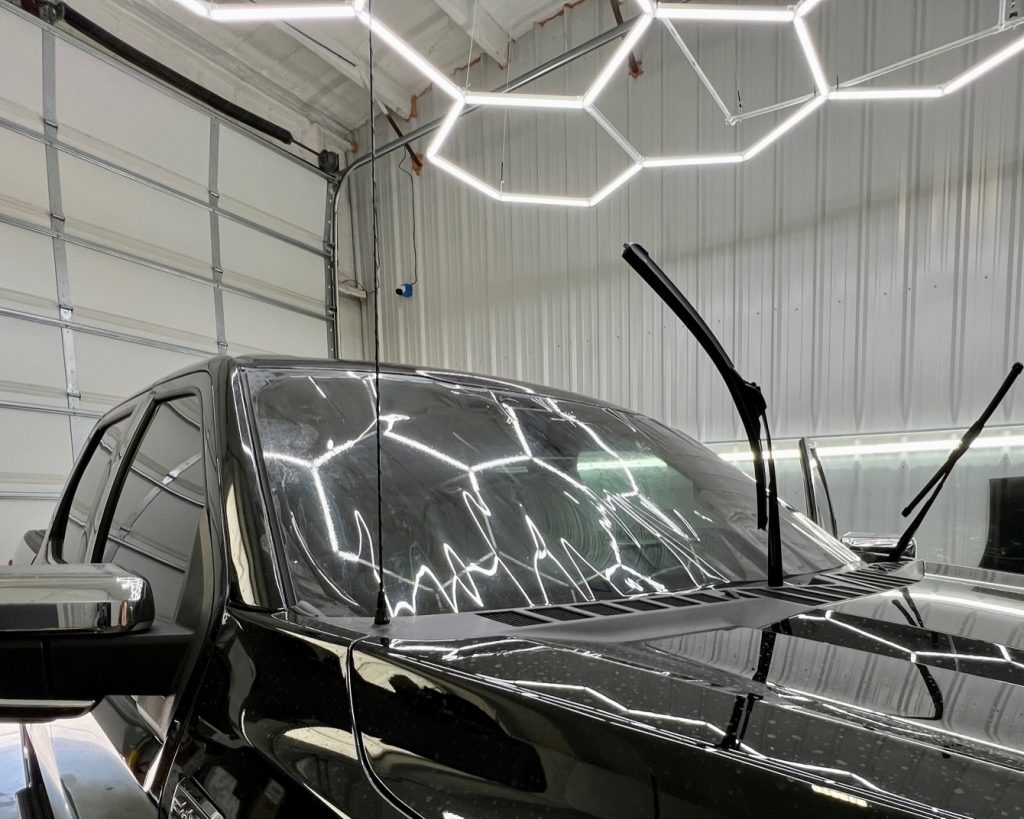 What Percentage of Windshield and Window Tint Should You Use?
Is your car undecided about which window tint percentage is ideal for it? There are numerous things to think about when it comes to blocking UV rays or gaining some more seclusion.
Your ideal vehicle tint percentage is the one that balances all your reasons for getting window tints.
At Auto Pro DFW, we're ready to help you pick the perfect Windshield and window tint percentage for your car. Contact us today for a free estimate or with any questions you may have.