AutoPro DFW  has been serving the Justin, Texas Window Tinting, and Auto Tint needs proudly since 2020. We are a one stop shop where we focus on quality and not quantity. Our Window Tint options all have lifetime warranty from fading, bubbling, turning purple, or peeling off. Taking care of the Justin, Texas community is a big responsibility, and we thrive to keep a 5-star rating review.
We have been innovative in developing new techniques that provides high quality workmanship. We created AutoPro DFW  because we wanted to fill a void. There were too many cars that lacked the appearance of a high-end quality tint and had film that had bubbled and turned purple.
Justin Texas Window Tinting Near Justin Texas
We want to provide comfort and aesthetic appeal by providing high quality film which produce better results and longevity. We offer additional services to assist you in "personalizing" your vehicle whether it is Auto Detailing, Window tint, Paint Protection Film or Ceramic Coating. Our goal is to Restore, Protect, and Maintain your vehicle.
If you are searching for "Window Tint Near Me" AutoPro DFW is your shop to go to. We are certified Window Film installers and offer the best high-end Window Film possible. We stand behind our Stek Automotive Window Film, and its great warranty you can't go wrong with but also highly recommended by the Skin Cancer Foundation.  Ceramic Film for window tinting for both privacy and more heat rejection. Don't wait for the summer and prepared ahead for that Texas scorching heat from destroying your interior, and the unpleasant feeling when it blinds your eyesight.
Justin is a small town located in North Texas, known for its hot summers and sunny weather. This makes window tinting an essential way to protect your vehicle and home from the damaging effects of the sun's harmful UV rays.
AutoPro DFW offers a variety of window tinting options, including automotive window tinting, residential window tinting, and commercial window tinting. Their experienced technicians can help you choose the best tint for your specific needs.
Justin Texas Window Tinting Benefits
One of the benefits of Justin Texas Window Tinting is increased energy efficiency. By reducing the amount of heat that enters your vehicle or home, you can save on energy costs by running your air conditioning less frequently. Additionally, window tinting helps to keep your space cooler and more comfortable during the hot summer months.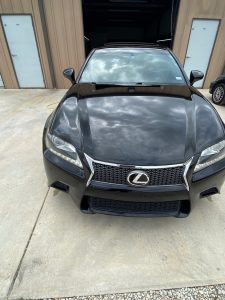 Its necessary
Automotive Justing Texas Window Tinting should be something that is a necessity for your vehicle. Not for appearance but for protection and heat rejection. Its an investment that you can expect some return on, either in mpg, comfort, or health.
No one can compete
Not all Window Films are created equal, we try to educate our customers on the variety of different Films. It helps our customers understand that our competitors products (even though they're priced the same, or cheaper) can't even come close to what our products can do. Therefore, it gives our customers the ability to make decisions based on quality and performance not just price.
We are a one stop shop in Roanoke, Texas for all your Window Tint and Automotive Detailing needs. Our services are done in house by professionals, we are licensed, professionally trained and insured to offer you the best service and experience as possible. AutoPro DFW has an enclosed shop to provide you the best install possible with minimal contamination. Window film installation services also include an in-house no-fault warranty up to one window to be reinstalled at no charge. It is our belief that sometimes accidents happen, and you may damage your new Window Film accidently, so we will be more than happy to take care of you to fix damaged window films.